OVER $25,000 RAISED ON KICKSTARTER
EXPERIENCE JAPANESE VG-10 STEEL
JAPANESE VG-10 STEEL
In our pursuit for the best quality material, we have settled for nothing but the best. We chose to sourced imported Japanese VG-10 Damascus steel - notorious for its hardness and ability to retain its edge making it world renowned among knife makers. The steel is so prized in fact that it is made only by a single forge in the Fukui prefecture in Japan, the legendary Takefu Steel Company.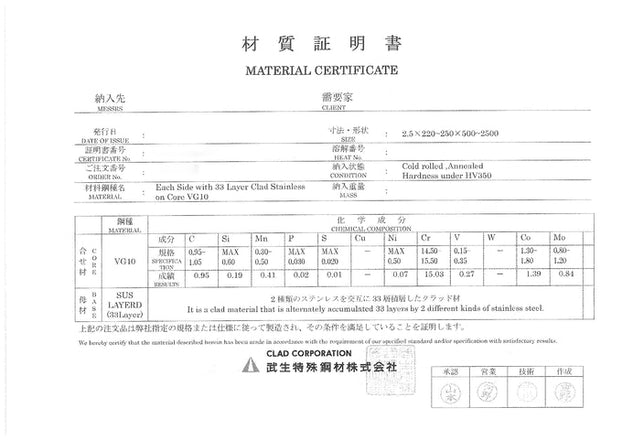 Due to the exclusivity and quality of VG-10 Steel, there has inevitably been knock off and reproductions of real Japanese Takefu VG-10 Steel. Thousands of knives endorsing "VG-10 Steel" circulate the market to this day.

Here at Kitsune Cutlery, we have taken the utmost precaution and care to ensure that this does not happen to our consumers. We have partnered with a manufacturer known to carry real Takefu VG-10 Steel imported from Japan with the credentials to prove it. At Kitsune Cutlery, the standard is paramount, and we have gone to great lengths to ensure it is met with every knife.
Featured product
6.5 Inch Japanese VG-10 Damascus Nakiri Cleaver
6.5 inch Nakiri Cleaver. The ideal, all-purpose knife. Forged in the traditional Japanese style with a symmetrical flat edge, donned with a black carbon and hammered pattern finish which reduces friction between food and the blade - the blade's beauty is only matched by its storied forging process. Crafted with 67 layers of authentic Japanese Steel with a stunningly beautiful Damascus pattern. The handle is in our signature octagonal style comprised of rose and black wood.
Each knife comes with a magnetic giftbox wrapped in one of four Furoshiki designs.
6.5 inch Nakiri Cleaver
67 Layers of VG-10 Clad Steel Core
 Carbon Steel Accent & Unique Wavy Damascus Pattern
Rose and black wood octagonal handle
Traditionally wrapped in one of four Furoshiki designs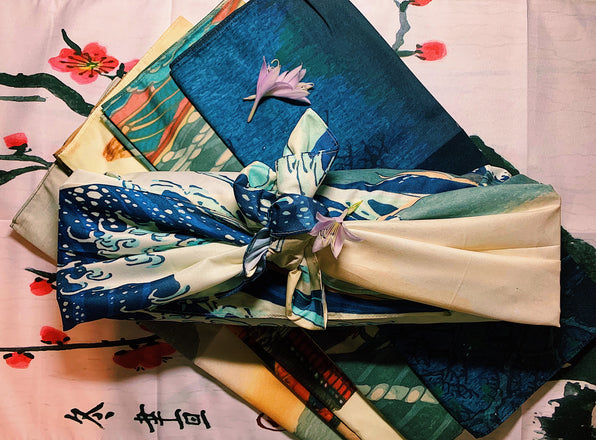 THE ART OF FUROSHIKI
Each Kitsune Chef knife is meticulously hand-wrapped in the traditional Japanese gift giving style of Furoshiki.

The Furoshiki wrap can be repurposed into countless different styles - such as a shoulder bag, picnic basket, or any type of carry cloth.

The Furoshiki wrap comes in one of any six beautiful designs.
FUROSHIKI UNBOXING
FUROSHIKI DESIGNS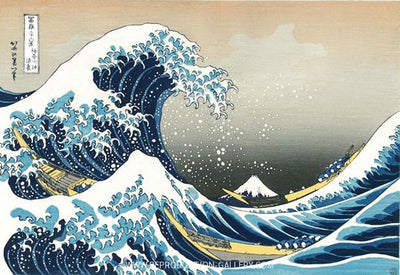 THE GREAT WAVE OFF KANAGAWA
Display Katsushika Hokusai, c. 1829 - 1833A depiction of an enormous wave crashing into three boats off the coast of Kanagawa. Mount Fuji can also be seen rising in the background.up to six features with an option to toggle images on or off, and add unique calls to action.
DANCING FOX WITH LOTUS-LEAF HAT
Ohara Koson, c. 1900s - 1910
A prancing fox, known for it's symbolism of intelligence and wisdom in Japan, sporting a lotus-leaf hat.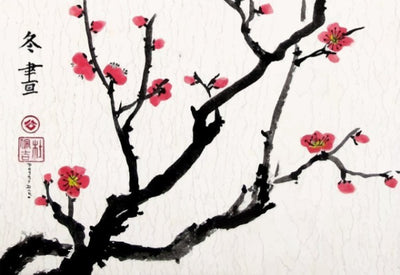 CHERRY BLOSSOMS
Peggy Duke, 2017
A beautiful Japanese style of water painting depicting branches of cherry blossom tree in bloom.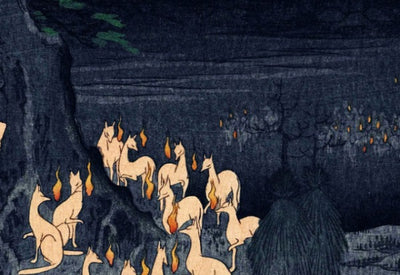 NEW YEAR'S EVE FOXFIRES AT THE CHANGING TREE
Utagawa Hiroshige, c. 1857
Foxes gathering at a large enoki tree on New Year's Eve to prepare to pay homage to the Oji inari shrine.